When it comes to our skin and hair, we will always have problems. From acne to frizz to dull skin, we all would like to change something about ourselves. For this Wishlist Wednesday, I've compiled a list of products to help me combat my own issues.
Problem: Dry skin
Solution:
Philosophy Hope in a Jar for Dry Skin
I have heard that this is THE stuff to get if you have dry skin. Most specialty moisturizers are made for oily, combination, and sensitive skin, leaving those with dry skin having to reapply moisturizer daily just to keep up. And the dry skin-specific one also comes in an SPF 20 version for all you heliophobes.
Problem: Slow blow-drying
Solution:
Kenra Platinum Blow-Dry Spray
My hairdresser used this on me while blow-drying my hair without telling me what it was, and after awhile I finally had to ask, "What on earth are you using that smells so freakin' good?" Turns out it was this. It reduces blow-dry time, keeps your hair from being frizzy, and, like I mentioned, it smells amazing.
Problem: Blackheads and flaky skin
Solution:
Suki Exfoliate Foaming Cleanser
I got this product in my
Birchbox a couple months ago
and absolutely love it. It leave my skin feeling soft and refreshed while scrubbing away all my skin's impurities and the flakes of dry skin that like to build up. Definitely recommend to all skin types.
Problem: Dark under-eye circles
Solution:
100 Percent Pure Organic Coffee Bean Caffeine Eye Cream
After weeks of taking Vitamins A and E religiously, I haven't seen as much of an improvement in my dark circles. I read that topical caffeine helps to constrict the blood vessels under your eyes, which seems to be the source of my problem. Definitely worth a try. Note: I don't have any puffiness, just dark circles. And no, it's not just lack of sleep!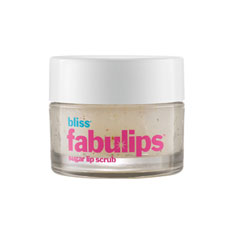 Problem: Chapped lips
Solution:
Bliss Fabulips Sugar Scrub
While chapstick is good at keeping lips from becoming cracked, once that skin starts coming off, there's not much you can do but start over. Sugar scrubs for lips are great because they help exfoliate the dry skin that's peeling so that chapstick can do it's job right. Plus, your lips taste awesome afterwards - that's a plus, right?
Do you have any of the same problems I do? What products do you use to fight your issues? Leave a comment!